Master Practitioner Clinical Hypnotherapist, Master Neuro-Linguistic Programmer and Life Coach, Kelly Robinson started her business MTPA Sydney Hypnotherapy in August 2014. Kelly's first experience of Hypnosis was when she was a teenager battling with chronic back pain. Once she realised the incredible power of her mind, she made a speedy recovery and hasn't had back problems since. After seeing the incredible recovery of her daughter, Kelly's mother Julie became a qualified Hypnotherapist. As an adult Kelly heard about the spectacular work her mother was doing. Kelly got the 'Hypnosis bug' again and she decided to study with world renowned Hypnotherapist and Life Coach Alistair Horscroft at the prestigious Mind Academy.
In 2019, after 5 years of helping people overcome a range of issues, Kelly discovered the unique correlation between her client's success and the creative mindset they adopted during the sessions – Kelly aptly renamed the business to Creative Minds Hypnotherapy.
WINNER- Best Hypnotherapy in the Blue Mountains 2023- Quality Business Awards 2023
WINNER- Best Hypnotherapy Services 2023 Sydney- Australian Enterprise Awards 2023
WINNER- Clinical Hypnotherapist of the Year 2022- Corporate Livewire Innovation & Excellence Awards 2022
WINNER- Clinical Hypnotherapist of the Year (NSW) 2022- GHP Mental Health Awards 2022
Top 25 Most Popular Health & Fitness Service in Surry Hills Sydney 2023- Health4You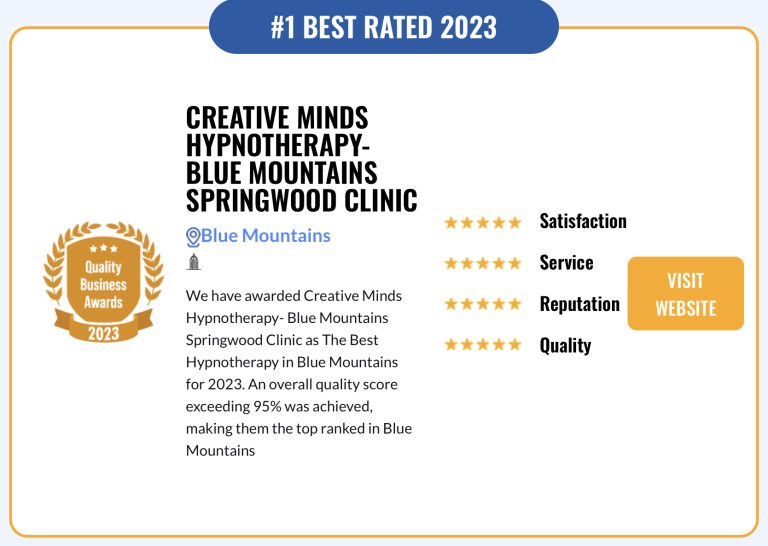 Why choose Creative Minds Hypnotherapy?
Creative Minds Hypnotherapy is all about empowering the client with knowledge and tools to access that powerful creative mindset. Rather than having a more traditional hypnotherapy approach of mystifying clients with clever mind tricks and reading scripts. Kelly spends the time to educate her clients on the brain and the power of using Modern Psychology Hypnotherapy and NLP techniques. With this knowledge, clients feel informed, in control and more open to employing these techniques whilst knowing exactly how they benefit the brain.
The result – clients feeling wise in knowing exactly how powerful these mind tools are and excited to put them into practice. Clients leave the sessions with a deeper connection to themselves, excited to grow with their own specialized mind tools and empowered to thrive in their lives.
"It is the supreme art of the teacher to awaken joy in creative expression and knowledge." Albert Einstein
Hypnotherapy is scientifically proven to help with a variety of problems and is quickly becoming one of the most popular therapies. Just some of the issues hypnotherapy can help with are: Quit Smoking | Weight Loss | Stress | Anxiety | Depression | Healing & Pain Control | Fears & Phobias | Public Speaking | Performers with Anxiety | Sports Performance | Children with bad habits | Children Anxiety based problems | Relationship problems | Confidence issues | Motivation | Bad uncontrollable habits | Insomnia or Sleep Disorders | Dealing with Grief or Loss | Post-trauma Anxiety | IBS (Irritable Bowel Syndrome) | Regression Therapy | Stuttering or Speech problems | Panic Attacks | Lots more …
"Working with Kelly I was able to break some long term habits and learned behaviours that were getting in the way of me doing all the things I wanted to be doing and causing some anxiety. After just three visits I made a tonne more progress than I had done in the years trying to do this on my own. I thought about going to hypnotherapy for a long time and my only regret in the whole process is that I didn't do this years ago. Thanks for all your help Kelly."
HOW DO I BOOK?
WHAT'S NEXT?
COST
TERMS & COND.
CONTACT
HOW DO I BOOK?
HOW DO I BOOK?
We'd love to hear from you! Your first step is to send us an email or give us a call and we'll talk through what to do next! 0400 499 791 kelly@creativemindshypnotherapy.com.au
WHAT'S NEXT?
COST
TERMS & COND.
CONTACT
Creative Minds Hypnotherapy is based in Sydney and has two clinic locations. We have our Inner City Surry Hills Sydney clinic and our Blue Mountains Springwood clinic.
Springwood, Blue Mountains NSW 2777
(Contact for availability and full address)
Servicing areas of Western Sydney such as Penrith, Kingswood, Springwood, Winmalee, Blaxland, Glenbrook, Lawson, Wentworth Falls, Leura, Katoomba and Blackheath.
Sydney Clinic Space 311/410 Elizabeth st Surry Hills 2010
Temporarily Unavailable. Online sessions are available. For more info click here.